Low back pain – Virtual Physical Therapy Lecture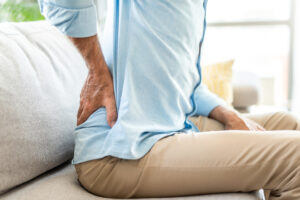 Tuesday, February 9 at 3:30 PM
In this lecture, physical therapist James O'Brien will discuss low back pain.  By the end of this lecture you should have a better understanding of the factors which promote low back pain and how to minimize habits, behaviors, and postures which are contributor to low back pain. In addition, he will highlight various treatment options used in physical therapy to address low back pain and prevent low back pain.
LEADER: James O'Brien, MSPT, OCS, CSCS
James became a physical therapist in 2009 after graduating with a MS degree in Physical Therapy from the University of Connecticut. Since that time, he has worked with a variety of individuals including young children through geriatrics. His predominant focus has been in orthopedic physical therapy, treating musculoskeletal disorders.  In 2013, he became a board-certified Orthopedic Specialist through the American Physical Therapy Association.
He is also a certified strength and conditioning specialist through the National Strength and Conditioning Association.  Prior to becoming a physical therapist, James was an airborne infantryman in the United States Army having served with the 82nd Airborne Division during combat operations in both Iraq and Afghanistan. After his time in service, he got out of the military with one too many aches and pains and decided he needed to learn how to fix himself and to help others do same.