Nursing Covid-19 Update 12/24/2020
Dear Residents and Families,
Happy Holidays and we hope this letter finds you healthy going into the New Year. We are happy to report that all staff and resident tests from last week were negative. This week's results are not back yet so we will update you early next week when we receive them.
This has been a very difficult year with the Covid-19 Pandemic, and we are pleased to share more good news regarding Covid-19. We now have dates for our Covid-19 Vaccinations! We are encouraging all Residents, Staff and Care Partners to receive the vaccine. Our residents are at a much higher risk of suffering severe consequences from Covid-19, including prolonged hospitalizations and death.  This vaccine has gone through testing and clinical trials to ensure it meets the highest safety standards and has been shown to provide protection against serious illness due to Covid-19. It is also safe and effective for those who have already tested positive for Covid-19.
We have partnered with Walgreens for distribution of the Pfizer-BioNTech Covid-19 vaccine.  This vaccine requires two doses. Anyone receiving the vaccine must receive BOTH doses for full effectiveness.
Vaccination Dates for Geer Nursing and Rehab Residents:
Tuesday 1/5/2021     9:00am – 5:00pm – initial vaccine dose given
Tuesday 1/26/2021   9:00am – 5:00pm – "Booster" dose for those who received initial dose on 1/5/21 or initial dose for those who did not receive the vaccine on 1/5/2021
Tuesday 2/16/2021   9:00am-5:00pm- "booster" dose ONLY for those who received initial dose on 1/26/2021
Please take note of the following instructions:
As mentioned in our previous letter, you should have already received the consent forms for your loved ones. These can be filled out and mailed back or if easier emailed back to us. We are asking that all consent forms be returned to Geer Nursing by 12/30/20. This will allow us to have accurate numbers for Walgreens to come prepared with enough vaccines.  If you have not received the previous mailing or are unable to obtain the electronic forms, please contact us. You can download the forms here return them via email to Melissa Foley at coronavirusquestions@geercares.org or fax to (860) 824-3994.
Testing: We will continue to take all necessary precautions after the vaccine is administered, including wearing personal protective equipment and conducting routine testing to ensure the safety of our Residents and Staff. As of last week, Litchfield County had a positivity rate of 10.3%. Due to this increase in community prevalence, staff at Geer Nursing and Rehab are now being tested twice per week.
Visitation: We will continue to offer virtual and window visits on a scheduled basis through our recreation department. To schedule a visit, please contact Jill Simmons, Recreation Director at 860-824-3831 or jasimmons@geercares.org. If all test results remain negative through the week of December 28th, we anticipate being able to resume in person visits the week of January 4th.
We need your help in battling COVID-19. Please visit the Centers for Disease Control and Prevention (CDC) website to learn how you can help prevent the spread at  https://portal.ct.gov/Coronavirus.
If you have any questions regarding Geer Nursing residents, please contact Director of Nursing Cady Bloodgood at (860) 824-­3825 or cbloodgood@geercares.org, or Infection Preventionist Melissa Foley at (860) 824-3861 or coronavirusquestions@geercares.org
Sincerely,

Cady Bloodgood, RN Director of Nursing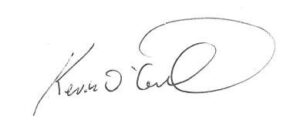 Kevin O'Connell, CEO