Success Spotlight: Leah's Care Plan Story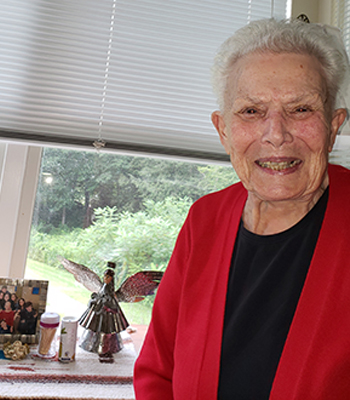 Latrice (Leah) Kushlefsky
 

My muscle strength and balance have improved significantly, and my pain is gone!

 
It happened so suddenly, my leg came out from under me, and I fell to the ground. I fractured my left hip and needed to have surgery.
Initially, after surgery I had a lot of pain and swelling. I went to Geer Nursing and Rehab for a short-term stay and the therapy team taught me how to regain my independence. I had to re-learn how to get out of bed on my own, access the bathroom and get dressed.
I was so excited to return to my home at the Lodge. I've always been motivated to be independent, my motto is 'You can and You will'! But I still needed a little help.
Chrissy, our Occupational Therapist, taught me exercises that challenged my balance and mobility. She gave me homework to do every day, which I still do. My muscle strength and balance have improved significantly, and my pain is gone!
I am self-sufficient in my apartment, am taking care of myself and can regularly walk around the Lodge for exercise.
Lead Therapist:
Dr. Chistina Befanis, OTD, OTR/L
Occupational Therapy Wellness Program Manager
cbefanis@geercares.org
(860) 824-2660
Dr. Christina Befanis earned her doctorate in Occupational Therapy from Quinnipiac University. Her doctoral capstone focused on health and wellness in retired adults. Currently, Christina is excited to be leading and developing the Wellness Program at Geer Village Senior Community, a prestigious retirement community.
She enjoys blending her clinical expertise, collaborative spirit, holistic perspective, and passion for students, while focusing on wellness, prevention, and preservation of independence.
Treatment Plan:
Leah's treatment plan consisted of:
muscle strength and balance training,
functional reaching skills,
safe use of rolling walker and transition back to 4 wheeled walker
compensatory strategies to improve bathing and dressing,
home management skills from standing level,
and return to independence with confidence.
At Geer Village Senior Community, everything we do focuses on holistic senior living. We offer a place where one can age in a supportive environment, thriving at all stages of life.